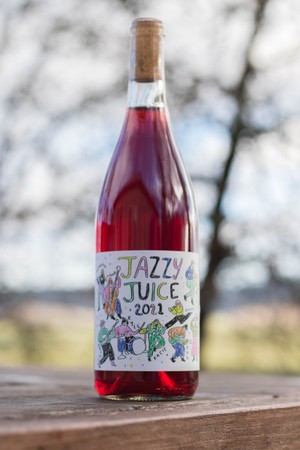 2021 Jazzy Juice
The Jazzy Juice philosophy came about during the 2018 harvest from a desire to make a juicy and bright, lighter-bodied red wine. To do this, we flip the skin-to-juice ratio of the fermentations, by direct pressing the majority of the grapes and floating some clusters and berries in the juice during fermentation to bring a touch of color and tannin to the wine.
As for the blend, we rocked the "reverse saignee" approach with two of our Pinot Noir ferments (one with 667 clone and the other 828 - both super bright and juicy). For the next portion of the blend, we layered Pinot Gris whole clusters in the first 1/2 of the tank, and destemmed Pinot Noir on top. This made for a super fun, spicy, lighter bodied but nice texture addition. Finally, we blended 2 barrels of Kerner in to "pop" the floral notes, which complement the juicy goodness so well. The Final blend = 75% Pinot Noir (reverse saignee) + 15% Kerner + 10% Pinot Gris
2021 truly hits the mark for a delicious, quaffable red wine that can be enjoyed at room temp or even lightly chilled. The Jazzy Juice label is always an ode to our harvest team each vintage, and the 2021 crew was truly an exceptional crew!
Wine Specs
Appellation
Van Duzer Corridor